Featured Projects
"Brencal is very focused on customer satisfaction, and good about making a problem go away –and in a timely way. Very good to work with!"

Dean Cushman, Core Design
Wayne State University Computer Science Relocation
$2,417,000
TMP Associates, Inc.
•Complete interior removal of three floors for rebuild of high-end office space
•Server room installation for WSU Computer Science Department
•On time deliveries and off-hour shutdowns were scheduled around a fully operational commercial/educational building
•Historical building required salvaging of existing materials and preserving existing architectural building elements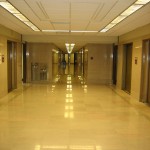 General Motors Tech Center Global Architecture Studio
$5,700,000
Giffels, LLC
•Security, mechanical, and electrical upgrades to existing building
•Demolished over 100,000 SF light manufacturing facility for the rebuild of a clay vehicle design studio
•Multi-shift construction managed by Brencal
•Brencal's self-perform division led the way with a demanding schedule
•GM Green construction initiative
General Motors Proving Emissions Lab Expansion
$13,100,000
Sverdrup
•Expansion of existing and working laboratory
•Installation of new hot and cold test chambers for full size vehicles
•Extensive span gas piping and new gas detection systems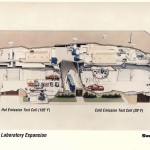 General Motors Proving Grounds Building 42A Bio Fuels Lab Renovation
2,122,000
Cornerstone Engineering, inc.
•Renovation of existing single story service building to create a state-of-the-art bio fuels laboratory
Pontiac Stamping Plant 14 Water Separation Ph. II
$8,400,000
Hubbell, Roth, & Clark, Inc.
•Design/Build project led by Brencal Contractors
•Construction of a new five-million gallon detention pond
•New construction of a 5,000 sf treatment building with capabilities of treating storm water at a rate up to 1,000 gallons per minute
•Entire treatment process commissioned to be one automated process
•Renovation of site wide storm water drainage system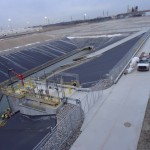 Other Projects
Education (K-12 and Higher Education)
Oakland University NFH/SFH and O'Dowd Halls
$575,000
J. Eppink Partners
Anchor Bay High School
$3,616,000
TMP Associates, Inc.
Automotive
Ford Motor Company Underbody Building Addition for Emission Lab at Pilot Plant
$2,075,000
Industrial
Holcim Storage Silos and Operations Building
$1,250,000
National Steel Corporation Galvanizing Line
$5,600,000
Hazama Corporation
Health Care
Children's Hospital Emergency Department Renovations
$2,110,000
Catherine McAuley Health Systems Ambulatory Services
$3,800,000
Airports
Northwest Airlines GSE Refueling Triturator
$2,900,000
DTW Main and West Delta Sky Clubs Renovations
$385,000
ASD
DTW Midfield Terminal Energy Center
$1,300,000
Water and Waste Water
New Haven Community Schools Waste Water Treatment Facility
$1,200,000
Fanning Howey and Tetra Tech
City of Warren WWTP Disinfection System Improvements
$3,965,000
Hubbell, Roth, & Clark, Inc.
Henry Ford Community College SME West Building Rebuild
$1,522,000
Terrence N. Biernate, Architect
•Major multi-floor office building renovation
•Demolition of existing HVAC system Installation of new roof top HVAC unit
•Required complete structural steel framing reconfiguration of existing roof
•Fast track schedule to accommodate a new tenant
MDOT Larned St Bridge
$1,320,000
City of Detroit Engineering
•Demolition of existing bridge decking and super structure
•All work completed over existing scenic walkway
•Walkway was reopened to the public at the end of each work week
•Installation of new bridge decking, structural steel, concrete super structure, electrical and fencing
•Rework and preservation historic building elements
Lafarge New Detroit Cement Terminal
$763,000
HNTB Corporation
•Major structural concrete foundations for new cement storage silo
•New shipping dock built to accommodate some of the world's largest ships
•Intense safety measures in place while work was performed standing on sea wall overlooking the Detroit River
•Environmental concerns taken while excavating through and near contaminated soil remediation
University of Michigan Maternal Child Health Care
$6,100,000
•Multiple-floor renovation to working hospital
•Strategic off-hour shutdowns to accommodate ongoing medical services
•Extensive medical gas piping and HVAC work through hospital areas
Northwest Airlines De-Icing Facilities
$816,000
•New construction of de-icing operations building and airplane ports
•Facility built in working airport runway and terminal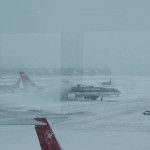 City of Marysville WWTP Upgrade and Expansion Improvements Ph. II
$12,100,000
Hubbell, Roth, & Clark, Inc.
•Large renovation and additions to existing waste water treatment plant
•Plant remained in operation 24-hours-a-day during construction
•Work included a new two-million gallon SSO Basin, primary clarifier, trickling filters, renovation and addition to main operations building, and construction of  a new blower building